It is located at the foot of the mountains 3 km south of the Esik burial ground and directly adjacent to the village of Rakhat, which is located 5 km from the town of Esik along the Esik-Talgar highway. The archaeological complex of Rakhat is a unique place where the various historical cultures coexist in one location from the Saka Era to the 13th century. The settlement is a single system of three castle complexes located along the mountains from east to west. The castles have different sizes, but the same structure: the citadel in the center and the fortress walls surrounding it. In 2004 the members of the Institute of Archeology named after A. Kh. Margulan carried out the settlement studies that revealed a cultural layer corresponding period-wise to the burial mounds of the Esik Necropolis.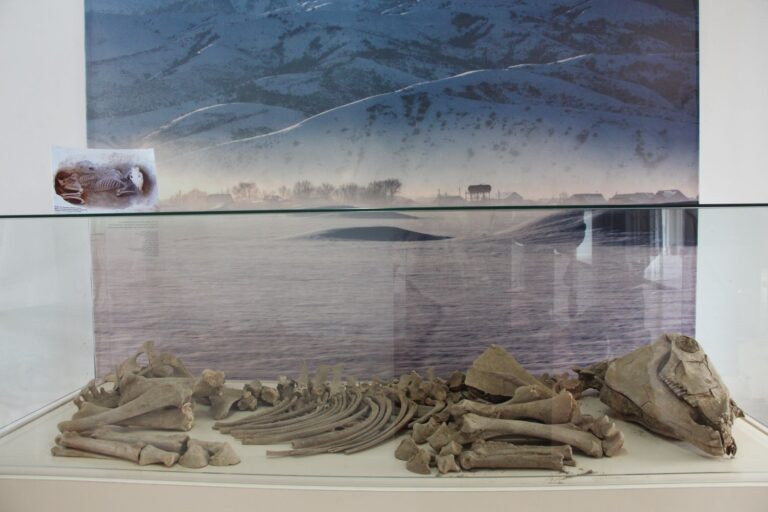 There is a hypothesis that the settlement of Rakhat was the residence of the Saka kings, and from there the body of the Golden Man was carried to the place of his burial. The research works continued in 2017 by archaeologists of the reserve-museum "Esik" together with the specialists from the People's Republic of China. 10x2x4 m stratigraphic excavation (test pit) in the southwestern part of the foot of the settlement's central hill revealed 9 cultural layers. The territory of the monument was marked, and various archeological material was found: ceramics fragments, bronze and stone artifacts, and processed bones (amulet). The periodization of these artifacts dates from the early Iron Age to the Middle Ages. A pottery kiln found in the test trench confirmed the theory of the area hills' artificial origin.
The field works in 2018 proceeded in two directions. The first one is the study of the Turkic burials in the southern part of the settlement, where several burial kurgans were excavated. The bone remains of 4 people and 2 horses, as well as fragments of horse harness in large quantities were found in four burials. The second area of the field work was the identification of stratigraphy (planography) of the settlement's central citadel by digging a 10 m long and 5 m wide pit. Fragments of ceramics and bone remains of animals were found there. These research works should determine the course of the future large-scale excavations at the site in the coming years, which may reveal to the world the new magnificent urban culture monument of the ancient Zhetysu Region's nomads.